Stihl Concrete Saws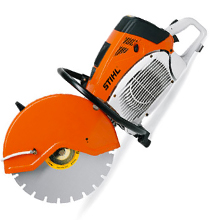 Stihl TS800 Concrete Cut Off Saw
Very powerful 5.0 kW engine with 400 mm cutting wheel. Includes a long-life air filter system with cyclone air routing. Ergonomic design with optimised handling positions. ElastoStart plus, compensator and decompression valve. Water attachment and composite cutting wheel come as standard. Can be operated by hand or mounted on a FW 20 cart.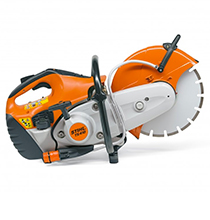 Stihl TS410 Concrete Cut Off Saw
Compact and robust the Stihl TS410. Long-life filter system with cyclone pre-separation makes on site maintenance unnecessary. Extremely low vibration levels (3.9m/s²). High performance engine with stratified charge system. Compact design and optimised balance for excellent cutting and guide characteristics. For use with 300mm cutting wheel. ElastoStart, primer pump and decompression valve. Bayonet filler cap for tool free opening. Can be hand held or used with the FW 20 cart.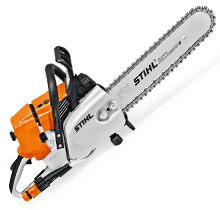 Stihl TS461 Concrete Cut Off Saw
Handles like a chainsaw, but with the power of a cut-off machine: the GS461 concrete saw from Stihl. It's ideal for cutting concrete, masonry, concrete pipes and ductile cast iron pipes. But what really makes it stand out from the crowd is its impressive cutting depth, great power-to-weight ratio and ability to cut precise corners. The guide bar perfectly matches the tool and features nozzles that point forward for effectively supplying the chain with water. And the special diamond saw chain transforms the engine power into superior cutting performance.
Also available to download:
Our company has over 40 years of experience in the business and can help provide you with the correct Stihl Concrete Cut Off Saws.
Call or email Angus Chainsaws.
Tel: 01241 830 240
Mobile: 07767 617 533